Course details
【Tropical Girls' Association Course】 All-you-can-drink all-you-can-drink 3 hours with tropical desert appended month - Thursday and Sunday only! 2980 yen (tax included)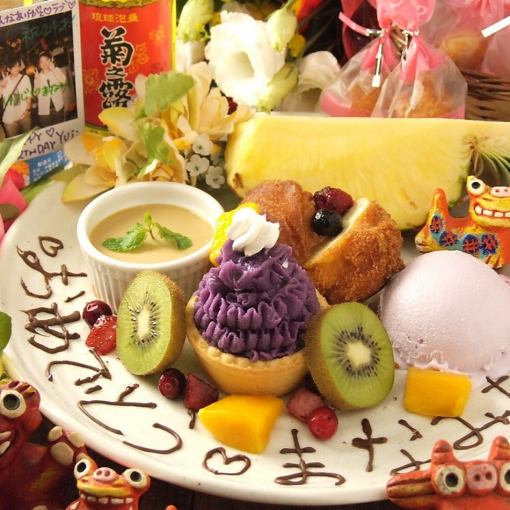 By using a coupon2980 yen
※ Friday, Sunday and public holiday is 3500 yen (tax included)
All-you-can-drink available

All you can drink about 100 kinds including Orion beer raw
Reservation deadline

Until 17 o'clock on the desired shopping day
Available days for reservation

Monday - Sunday - Public holidays - Holidays
___ ___ ___ ___ ___ 0 Girls' s Limited All - you - can - drink menu is also attractive! ※ Friday and Sunday Holiday is 3500 yen! Plentiful in Nilagana All-you-can-drink for 3 hours!
Course menu
【Niraikanai girls' party benefits ♪】
★ Girls friendly Niragana! Mon - Thu offers [___ 3 hours drinking and attached with 2980 yen] ♪ (※ Friday, Sunday and public holiday is 3500 yen)
★ Enter name ♪ Birthday dessert available (reservation required)
I will raise a birthday parley together, such as message insertion and directing!
★ We will prepare a celebration plate for other leading protagonists (reservation required)
★ Birthday or celebration service combined OK ♪
Please choose from flower bouquet or message card!
★ All you can drink content is cute tropical cocktail of Niraikanai and all you can drink 10 kinds of rich plum wine! Special ♪
★ Preferential guidance to cute seats according to the number of people ... ♪ Almost like a trip to Okinawa!
★ Information on 1 day pair "Drink unlimited unlimited" !! Reservation as soon as possible ♪
★ If booking with more than 5 people, guide ___ ___ ___ 0
※ The details are also in the coupon field !! Please check, please contact us !!
«Contents»
■ Assorted delicacy
· Bubble wrap feeling is different.I will not endure it! Ocean grapes
· I can not stop crispy texture! Mimicar
· Sweet and heartfully smiling ♪ Jimami tofu
■ Seasonal Island Vegetable Salad
~ Taste healthy island vegetables ~
Boasting Champloo
~ Goya Champlle or Fu Champlle ~
■ Platter of fried Okinawa ingredients as well
~ Please share the seasonal island ingredients with salt from Okinawa ~
■ Fresh salsa's TACO rice or Okinawa salt fried noodles
~ Healthy Okinawa Soul Food Black Rice Taco Rice with Fresh Salsa ~
■ Tropical Wind! Seasonal homemade dessert
~ We will deliver cute to tropical ~
* Depending on the season and purchase, some of the contents may be changed.
Please note.
All-you-can-drink menu
· Draft beer / cocktail
· Sapporo · Orion beer ◆ Tropical beer ◆ Mango beer · Guavaavia · Pinebia · Siegbia · Calpis beer · Shandy Orion · Peach Orion
·sour
· Sequencer Sour · Passion Fruit Sour · Hibiscus Sour · Calpis Sour · Guava Salawa · Mango Sour
Awamori / wheat distilled spirit
· Umachi tea · Mandarin · Tea · Hibiscus tea · Oolong tea · Squikwasser · Pine · Guava · Mango · Grapefruit · Orange · Milk · Cola etc
· Awamori
· Tokiwa · Teruyoshima · Maruta · Kaneyama · Yamabara Kuna · Remnant Wave · Remnant Wave · Tamarito · Ryukyu · Kume Sen · Shigeru · Sakimoto · Ruizen · Tadayoshi · Masahiro · Kikuyoshi · Tara · river · Taro Nico Nico · Rus of the Palace · Yae Izumi etc.
· Brown Shochu · Shima Shochu
· · Brown sugar shochu ◆ Village of Akari · Ren and Takakura · Yayoi · Shimaki no island · toari · shirayuri · izen ◇ Shima shochu ◇ (potato) Island of Tako Yaku · Shimamura · Minamizumi (wheat) Number plate (shoulder) fortune tan
·Fruit wine
· Baekje plum wine · Komari's homemade plum wine · Mei beauty · Brown plum wine · Nigari plum wine /
· Cocktail Other
· ◆ ◆ Cassis cocktail ◆ Mango cocktail ◆ ◆ Passoa ◆ Campari ◆ Dita cocktail ◆ Lamb ◆ Jin ◆ Malibu ◆ Peach ◆ Vodka ◆ Karua ◆ soft drink
· You can drink unlimited drinks at + 500 yen!
· Old sake · Okazaki Izumi · Ryukyu Dynasty · Ryukyu Dynasty · Nakijin Castle · Matsudo · Shirayuri Old Sake ◆ Original Cocktail ◆ Foam Mooni · Amami Libre · Mangosa ◆ Plum wine ◆ Nigari Plum wine · Plum wine first ◆ Shodo Shochu ◆ Forged height Tan
2019/01/11 update