Course details
Weekday only 【3 hour drink unlimited with Okinawa enjoyment course】 Local taste! Okinawa specialties ♪ All 11 items 【5500 yen ⇒ 4500 yen】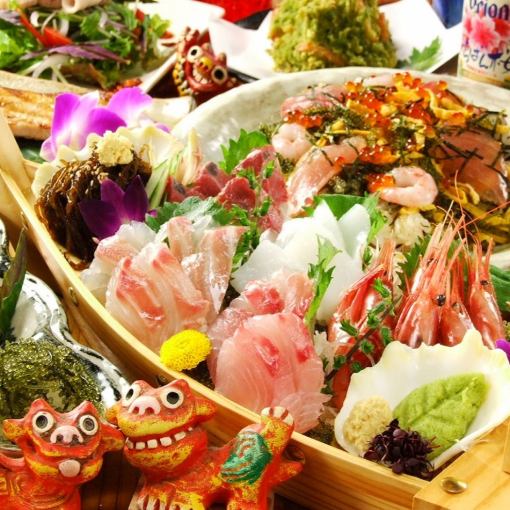 By using a coupon4500 yen
(Tax included) It is a price with all you can drink.
All-you-can-drink available

All you can drink about 100 kinds including Orion beer raw
Reservation deadline

Coming to the store until the desired date of the day 17
Available days for reservation

Monday - Thurs, Sundays, Holidays
Okinawa child certification.A popular course where you can enjoy the local taste!
Course menu
Weekday only! 【3 hour drink all you can have ☆ Okinawa enjoying course】 Local taste! Okinawa specialties ♪ All 11 items 【5500 yen ⇒ 4500 yen (tax included)】
~ Details ~
■ Okinawa delicacy 3 points serving
~ Ocean Grape · Mimicar · Jima Tofu ~
■ Seasonal sashimi boat
■ Okinawa Genki vegetable salad
■ Hirayama
■ Champloo of fire
■ Tempura with roast pot and goya
■ Slowly simmered raftay
■ Black rice taco rice
■ Hakura Produce Black Sugar Pudding
All you can drink as + 500 yen ※ You can upgrade!
◆ Tropical Via ◆ Mango beer · Guavaqia · Pinebia · Sequencer Via ◆ Older sake ◆ Passe residence · Old Sake Risen Izumi · Ryukyu Dynasty · Nakijin Castle · Matsudo · Shirayuri Old Sake ◆ Original Cocktail ◆ Foam Moon · Amami Libre · Mangosa ◆ Plum wine ◆ Nigori plum wine · Plum wine first ◆ Shodo shochu ◆ Forge high
All-you-can-drink menu
- Draft beer / cocktail
· Sapporo · Orion beer ◆ Tropical beer ◆ Mango beer · Guavaavia · Pinebia · Siegbia · Calpis beer · Shandy Orion · Peach Orion
·sour
· Sequinerser Sour · Passion Fruit Sour · Hibiscus Sour · Calpis Sour · Guava Salawa · Mango Sour
Awamori / wheat distilled spirit
· Umachi tea · Mandarin · Tea · Hibiscus tea · Oolong tea · Squikwasser · Pine · Guava · Mango · Grapefruit · Orange · Milk · Collar etc.
Awamori
· Tokiwa · Teruyoshima · Maruta · Kaneyama · Yamabara Kuna · Remnant Wave · Remnant Wave · Tamaru · Ryukyu · Kume Sen · Shu Rash · Sakumoto · Ruizen · Tadayoshi · Masahiro · Kikuyosuke · Tara River · Taro Nico Nico · Rus of the Palace · Yae Izumi etc.
· Brown sugar shochu · Shima shochu
· · Brown sugar shochu ◆ Village of Akari · Ren and Takakura · Yayoi · Shimaki no island · toari · shirayuri · izen ◇ Shima shochu ◇ (potato) Island of Tako Yaku · Shimamura · Minamizumi (wheat) Number plate (shoulder) fortune tan
·Fruit wine
· Baekje plum wine · Komori's homemade plum wine · Mei beauty · Brown plum wine · Nigari plum wine /
· Cocktail Other
· ◆ ◆ Cassis cocktail ◆ Mango cocktail ◆ ◆ Passoa ◆ Campari ◆ Dita cocktail ◆ Lamb ◆ Jin ◆ Malibu ◆ Peach ◆ Vodka ◆ Karua ◆ soft drink
· You can drink unlimited drinks at + 500 yen!
· Old sake · Okazaki Izumi · Ryukyu Dynasty · Ryukyu Dynasty · Nakijin Castle · Matsudo · Shirayuri Old Sake ◆ Original Cocktail ◆ Froth Moon · Amami Libre · Mangosa ◆ Plum wine ◆ Nigori Plum wine · Plum wine first ◆ Shodo Shochu ◆ Forge height Tan
2018/09/04 update