Course details
All day OK [with all-you-can-drink 3 hours] Champuru of the soul, sea grapes etc. Yuntaku course 6 dishes 【3500 yen】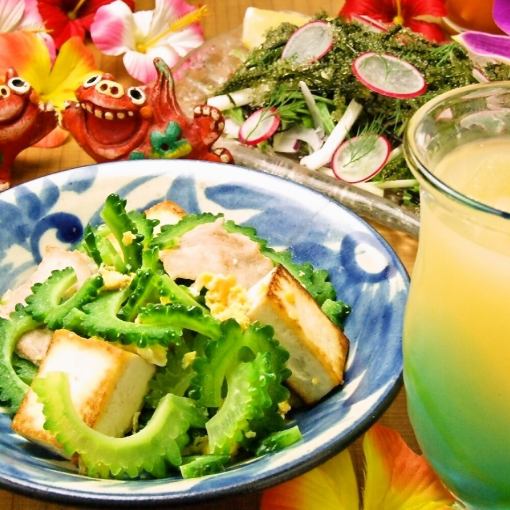 By using a coupon3500 yen
All-you-can-drink available

All you can drink about 100 kinds including Orion beer raw
Reservation deadline

Until 17 o'clock on the desired shopping day
Available days for reservation

Monday - Sunday - Public holidays - Holidays
Original course of our shop ☆ It's a course to enjoy Okinawa casually! Great deals with all-you-can-drink 3 hours.
Course menu
【All-you-can-drink for 3 hours】 Champuru of the soul, sea grapes etc. Yuntaku course 6 dishes 【3500 yen (tax included)】
~ Details ~
Ship Niimori's sea grapes
■ Okinawa Genki vegetable salad
■ Hirayago
■ Champloo in the soul
■ Tempura of roast pot
■ Black rice taco rice
All you can drink as + 500 yen!
◆ Tropical Via ◆ Mango beer · Guavaqia · Pinebia · Sequencer Via ◆ Older sake ◆ Passe residence · Old Sake Risen Izumi · Ryukyu Dynasty · Nakijin Castle · Matsudo · Shirayuri Old Sake ◆ Original Cocktail ◆ Foam Moon · Amami Libre · Mangosa ◆ Plum wine ◆ Nigori plum wine · Plum wine first ◆ Sho-shochu ◆ Forge high
All-you-can-drink menu
· Draft beer / cocktail
· Sapporo · Orion beer ◆ Tropical beer ◆ Mango beer · Guavaavia · Pinebia · Siegbia · Calpis beer · Shandy Orion · Peach Orion
·sour
· Sequencer Sour · Passion Fruit Sour · Hibiscus Sour · Calpis Sour · Guava Salawa · Mango Sour
Awamori / wheat distilled spirit
· Umachi tea · Mandarin · Tea · Hibiscus tea · Oolong tea · Squikwasser · Pine · Guava · Mango · Grapefruit · Orange · Milk · Cola etc
· Awamori
· Tokiwa · Teruyoshima · Maruta · Kaneyama · Yamabara Kuna · Remnant Wave · Remnant Wave · Tamarito · Ryukyu · Kume Sen · Shigeru · Sakimoto · Ruizen · Tadayoshi · Masahiro · Kikuyoshi · Tara · river · Taro Nico Nico · Rus of the Palace · Yae Izumi etc.
· Brown Shochu · Shima Shochu
· · Brown sugar shochu ◆ Village of Akari · Ren and Takakura · Yayoi · Shimaki no island · toari · shirayuri · izen ◇ Shima shochu ◇ (potato) Island of Tako Yaku · Shimamura · Minamizumi (wheat) Number plate (shoulder) fortune tan
·Fruit wine
· Baekje plum wine · Komari's homemade plum wine · Mei beauty · Brown plum wine · Nigari plum wine /
· Cocktail Other
· ◆ ◆ Cassis cocktail ◆ Mango cocktail ◆ ◆ Passoa ◆ Campari ◆ Dita cocktail ◆ Lamb ◆ Jin ◆ Malibu ◆ Peach ◆ Vodka ◆ Karua ◆ soft drink
· You can drink unlimited drinks at + 500 yen!
· Old sake · Okazaki Izumi · Ryukyu Dynasty · Ryukyu Dynasty · Nakijin Castle · Matsudo · Shirayuri Old Sake ◆ Original Cocktail ◆ Foam Mooni · Amami Libre · Mangosa ◆ Plum wine ◆ Nigari Plum wine · Plum wine first ◆ Shodo Shochu ◆ Forged height Tan
2018/12/10 update